Sequels, Sequels, Sequels
Grab your Goose, oil your body, and hang out for a while on the beach playing volleyball, because, as announced on Deadline, Top Gun: Maverick's release is being pushed back to a June 26, 2020 release. This added time will allow for the production of "great" flight sequences. And with Oblivion's Joseph Kosinski at the helm, those sequences will be just that. Danger zone, here we come!
Paramount also announced that John Krasinski (is it odd how close that is to Joseph Kosinski? Try to keep those straight!) is writing the sequel to A Quiet Place, which is set for a 2020 release as well. See A Quiet(er) Place on May 15, 2020.
Jude Law let out the tiniest of reveals about Sherlock Holmes 3 while sitting with Entertainment Weekly:
We hope to propel the story forward. As always, the essence of the story is their codependency. We're going to examine — since it's been several years since we've seen them — we're going to play up the fact that they haven't seen each other for a long time either.
Seems like the years of waiting were almost as hard on the two friends as they've been on fans.
Amidst all this sequel positivity, however, is a cloud of a most bogus nature: Bill &Ted 3 might not be "a reality," according to Keanu Reeves. "We've been trying for a long time to get that film made, and it still has its challenges." But who is better prepared to face the challenges of Hollywood than Bill and Ted?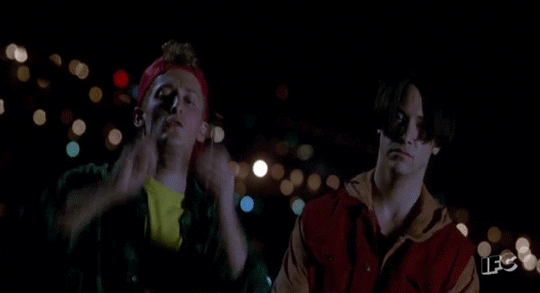 #TomCruise #TopGun #TopGunMaverick #Paramount #Sequels #Oblivion #JosephKosinski #AQuietPlace #JohnKrasinski #JudeLaw #SherlockHolmes3 #SherlockHolmes #EntertainmentWeekly #BillTed #BillTed3 #KeanuReeves