Mary Poppins and Captain Marvel - Just take our money already, Disney!
Disney certainly seems to know what we want - powerful, magical women as leads in their own movies. In the last several days, Disney released trailers for likely their two most anticipated upcoming films: Mary Poppins Returns and Captain Marvel.
Mary Poppins Returns, December 19, 2018
If anyone could take over the lead role in Mary Poppins from the estimable Julie Andrews, it would be Emily Blunt. And this official trailer shows just how perfect she is for the role. We hear the slightest bit of a song, see her behave with the poise and dignity of Poppins, and finally learn what this film is all about - saving a new Mr. Banks. Well not new, per se, but the young Michael all grown up, and weighed down by the tragedies of the world. Lin Manual Miranda has a truer accent than Dick Van Dyke ever did, and the new children seem just as darling as in the original. My only issue with the trailer? Mary Poppins says she is here "to help the Banks children." To which one of the little ones replies "us?" "You too." But of course, we all know thanks to Disney's other Mary Poppins themed filmed - Saving Mr. Banks - it was always about... saving Mr. Banks.
Watch the trailer for yourself above, and let us know what you think in the comments! Is Emily Blunt the most perfect actress (answer: YES.) Are you excited to see Lin Manuel Miranda pretend to be British even though his claim to fame is his Broadway play on separating from England? Chime in!
Captain Marvel, March 8, 2019
As a gift to all those who work early on Tuesday mornings, Marvel Entertainment released the official trailer for Captain Marvel in the wee hours of the morning. And what a trailer it is. Before even getting out of bed for a cup of coffee, I watched through it three times. Overkill? I don't think so.
If there was any doubt that this film was set in the past, the trailer opens on a shot of Captain Marvel's body falling through space, and crashing into a Blockbuster Video. What's that, you youngins ask? Only a relic of a bygone era. (Although there is technically still one in existence.) Perhaps the best thing the trailer does is prove just how powerful this hero is - and why Nick Fury would be calling her after Thanos was seemingly successful. Just how she'll do that remains to be seen, but from the trailer, we know that she is crazy, glowing eyes powerful.
We also get to see young Nick Fury (he has both eyes and hair!) and a young Coulson (#Coulsonlives), as well as Jude Law (possibly as Mar-Vell). Oh, and Captain Marvel hits an old lady. I mean, she's definitely a Skrull pretending to be an old lady, but still. Carol Danvers don't care. She's gonna hit that old lady!
Basically, this movie is going to be - wait for it - Marvel-ous. We had to.
One Last Bit of Marvel News
One last bit of info that just came out today, Disney has some plans for Marvel on their upcoming streaming service. According to a report by Variety, Loki and Scarlet Witch will each receive a series. Tom Hiddleston and Elizabeth Olson are expected to reprise their roles. (I'm still annoyed that Robert Downey Jr. used that word when introducing Mark Ruffalo as Bruce Banner at Sand Diego Comic Con 2010...)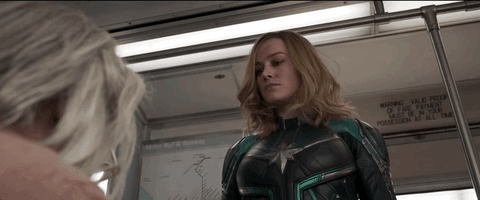 What are your feelings on Marvel? Excited for some 90s nostalgia? Ready to see an old lady get beat up? Are you annoyed by Robert Downey Jr.'s misuse of "reprise"? Share your thoughts!
#marvel #disney #MaryPoppins #MaryPoppinsReturns #CaptainMarvel #ScarletWitch #JudeLaw #BrieLarson #SavingMrBanks #EmilyBlunt #LinManuelMiranda #Loki #SanDiegoComicCon #SDCC #OfficialTrailer